Golf Cart and Accessories
in Florida
Cambenau Custom Carts, LLC, was founded in Florida. We have been serving the golf cart community since 2010.
With over 15 years of experience, we offer custom golf carts and accessories at our store for the perfect golfing atmosphere for all seasons.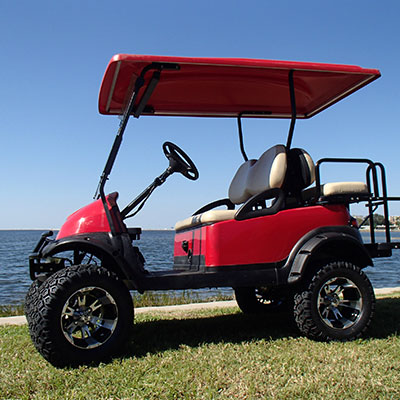 We search the industry for the best carts and accessories available. We take great pride in our company, our commitment to customer service and in the products we sell. Our online store is designed to provide you with a safe and secure environment to browse our product catalog.
Take a tour through our broad selection of deals on all the golf carts and accessories that you need. We are confident that our store is the first of its kind, where you can find high-quality golf accessories.
Cambenau Custom Carts, LLC, is all about creating personalized golf carts and accessories for the perfect match moods. We can customize any cart out there, but we choose club cars because they have an aluminum frame and plastic battery box that won't rust, and they weigh a lot less than the rest.
As a small, locally owned business, you can expect to talk directly to the owner about your project. You'll find that the final results are satisfactory with topnotch parts and workmanship.