Florida's Customized
Golf Carts Online
Our web site specializes in Club Car golf carts and after market accessories. CBA CARTS offers basic golf carts to state of the art decked out community carts. If you do not see exactly what you are looking for on this web site, please let us know exactly what you want and we will build it !!!
CBA Carts specializes in electric Club Car golf carts. We source most of carts from cooler climates where the the carts get used less during their original lease.  Club Cars are known for extreme durability in harsh saltwater environments due to the aluminum frame. When customizing the Club Car, CBA Carts takes it to the next level by sourcing as much aluminum accessories as possible - thus reducing the possibility of rust.  Sourcing the best possible used Club Cars and refurbishing them with the best products on the market - that is CBA Carts!!!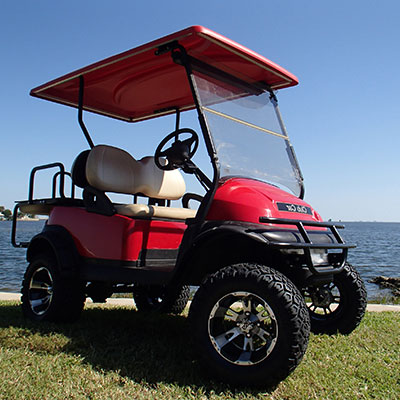 If you want to customize your Golf Cart, we have everything you will need to build your cart. Please take a tour through our broad selection of products to customize your cart with our accessories. Many of our accessories have been field tested for durability, toughness, and functionality. We offer entry level products to the top of line golf carts, accessories, and more.